The Easy Way to Avoid Toxic Nail Polish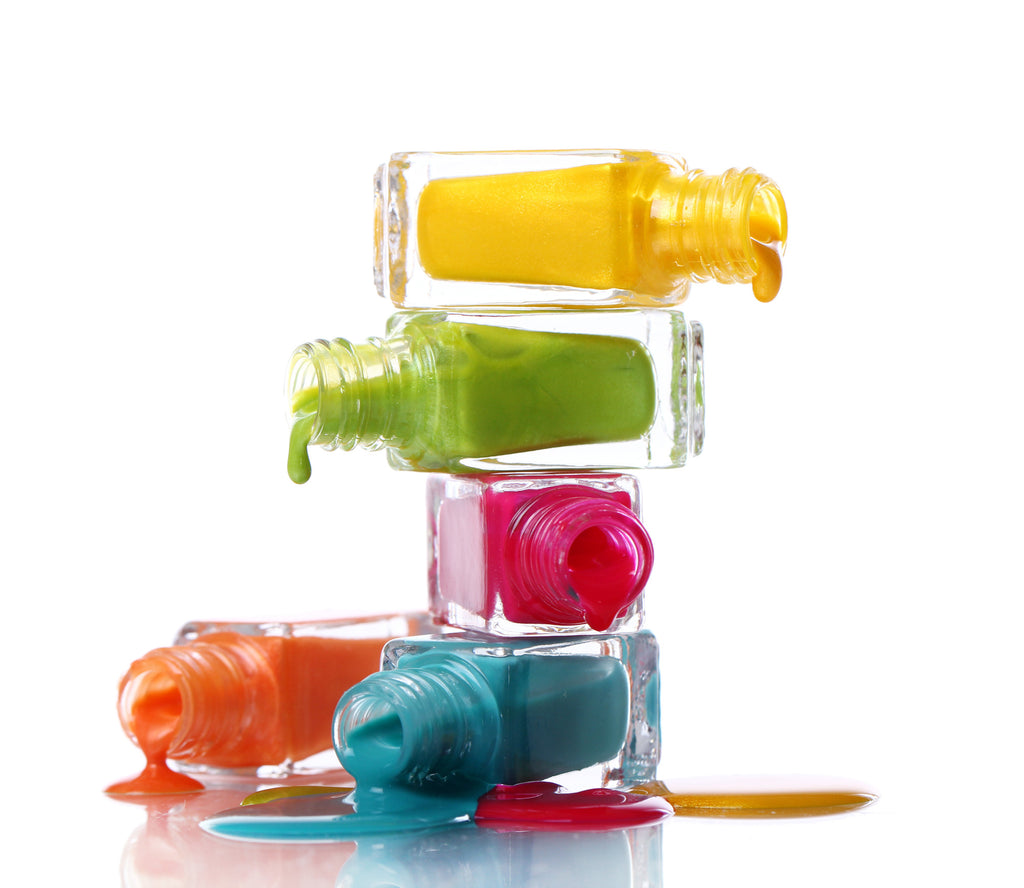 Who doesn't love a manicure or pedicure especially at a nail salon? A salon manicure can be so relaxing. Unfortunately, nail products typically contain harmful substances that are unregulated.
If you've spent any time at all in a nail salon, you've smelled the fumes of polish removers, polish, and gel nail products. And, I'm sure you've wondered about what you are breathing. So, how do you avoid toxic nail polish?
You can enjoy a safe manicure using these tips.
---
How to Avoid Toxic Nail Polish
---
First, you must understand the limitations of FDA regulations.
You probably think that the FDA has programs for testing products.
Well, it doesn't.
The FDA cannot and does not require companies to do product safety tests. And, the FDA does not review or approve the majority of personal care products.
In fact, the FDA has prohibited only a handful of substances in your personal care products. This explains why your products can contain toxins like formaldehyde, phthalates, parabens, toluene, and flame retardants.
So, this places the burden on you to find safe products.
---
Is 3-Free the Answer?
---
Recently, companies started labeling their nail polishes as 3-Free meaning that their polish did not contain the formaldehyde, toluene, or dibutyl phthalate. This is welcome because you really don't want these toxins in your nail polish. Here's why:
Dibutyl Phthalate – Used to make polish last longer and make it more flexible; however, it is increasingly linked to brain, behavioral changes, cancer and reproductive system harm. Dibutyl Phthalate is banned in Europe and listed as a developmental toxin in California.
Formaldehyde – Used as a nail hardener even though it's a known carcinogen, asthmagen, and neurotoxin
Toluene – Used to make polish smooth; however, it's linked to developmental and reproductive toxicity, organ system toxicity, irritation
Other nail polishes are labeled 5-Free meaning that the polish doesn't contain any formaldehyde resin or camphor. Formaldehyde resin shares the same harmful qualities as formaldehyde.
But, is 3-Free or 5-Free good enough? Should you feel good about your manicure if you opt for these 3/5-Free brands?
Probably not. Here's why.
---
Safety of Dibutyl Phthalate Substitute Questioned
---
A lot of these 3-Free and 5-Free polishes substituted Triphenyl Phosphate (TPHP) for Dibutyl Phthalate. TPHP makes polish flexible and durable, and it is also used as a chemical flame retardant.
Sometimes substitutes for harmful substances may not really be safe either.
Over the last decade, Dibutyl Phthalate has been replaced with TPHP. Many nail polishes now contain this new substance. A recent study by Duke University and the Environmental Working Group suggests that TPHP is absorbed through the skin and found evidence of exposure in all 26 participants.
Animal studies indicate it is an endocrine disruptor and another study linked exposure to fertility problems. As a further red flag, the EPA added TPHP to its list of chemicals requiring in-depth reviews because of its widespread use.
What's the bottom line?
Since 3-Free and 5-Free polishes may contain TPHP, you can't be certain that these polishes are safe.
What is a safe polish?
---
List of Safe, Water-Based Nail Polishes
---
Safer nail polish is available. Most nail polishes are solvent-based, but several personal care product companies have developed water-based polishes free of acetate.
These polishes are free from harsh chemical odors. Water-based polishes won't harden as fast as solvent-based, so there is a drawback. However, most customer reviews were positive.
SOPHi Naturals
Suncoat Nail Polish
Piggy Paint (for children)
Honeybee Gardens Nail Polish
Keeki Pure & Simple
If you are a frequent user of nail polish, it's probably a good idea to reduce your chronic exposure to these harmful chemicals and try these safer alternatives.
Learn more about how to avoid the worst things in personal care products because it's important to your health. Making a simple change to a safer less toxic nail polish can make a difference in your toxic exposure.
---
Sources:
"Triphenyl phosphate, found in 'eco-friendly' nail polish, spurs worries", Chicago Tribune
"Nail polish as a source of exposure to triphenyl phosphate", PubMed
Carol Trimmer